​
Executive Summary
We are entering the most competitive market for leadership and professional talent in over fifteen years. The pandemic has changed business models and employee needs. Great talent always has choices, the challenge is to develop a fit-for-purpose employee value proposition (EVP), that meets new expectations of the talent you wish to recruit or retain.
This report based on a survey of 1,882 leaders and professionals, looks at how the pandemic has altered the expectations of candidates when considering a move to a new employer. The survey covers many different dimensions of candidate decision making, this is the time to ensure your EVP is fit for future purpose.
How to get to Yes.
Create an employee value proposition for the hard road ahead.
Many current EVPs are being ripped up. According to three quarters of survey respondents, the engagement drivers for candidates now centre around how a company approaches the sustainable, wellbeing of it's employees. Companies who want to attract and engage the best talent are adopting a human-centred approach to wellbeing, which includes multiple dimensions of physical and mental health, safety and security, for their employees. Personal and career development also feature strongly, the challenge for hiring organisations is how to showcase these factors before a candidate even applies or is approached about an opportunity.
Why talent says No.

​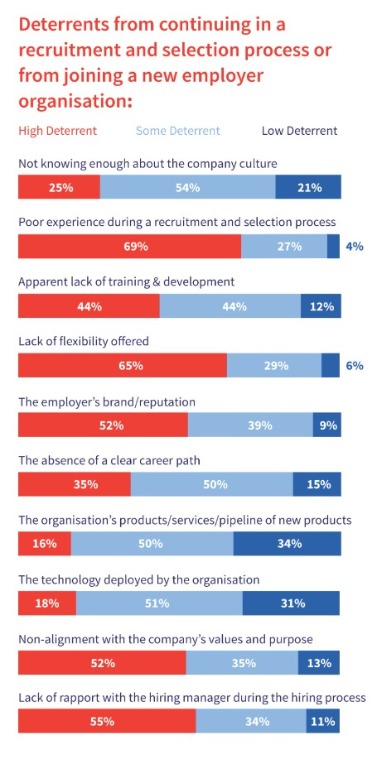 The factors that defer top talent from joining your company.
How often does your organisation mystery shop your recruitment process? What metrics do you set for hiring managers and TA functions to ensure you can measure their hiring performance? How strenuously do you test your recruitment partners on what they know about your firm's purpose, culture and detailed understanding of your need? The absence of these are the real hidden costs of recruitment and are lost opportunities.​
Employees place high value on flexibility around time off, especially at short notice, for necessary occasions and in particular when it is made easy to ask for. They also wish to work from home at least for part of their week. Often the employer argument against providing both of these can boil down to little more than an absence of trust. Trust is the cornerstone of engagement. Most organisations in Ireland are taking a positive view about sustained remote working practices. Many see similar or increased levels of productivity. Though it demands new management and system capabilities, having the option to hybrid work is highly valued by employees and candidates. Remember that your competitor for the talent you seek may well be presenting these as positive EVP elements in their organisations.
Other Influencers.
Years to build, minutes to destroy
Even organisations who are strong on communicating detailed and authentic business or product brand strategies, regularly neglect their employer branding. While at the same time, the standards to which employees hold their organisations have risen substantially.
Adverse publicity about your firm or a public scandal involving one of your employees is enough to dissuade a large majority of candidates from considering your firm as an employer. Your employer brand is the firm's reputation in the talent pools that matter to you. How is your firm is viewed by candidates today? What would your current employees say if asked about your organisation as a place to work?
​Social media is as fast as it is furious, bad news travels around the globe at the speed of light. The absence of a robust employer brand in the face of adversity can mean significant reputational damage. How often do you review your employer brand online to see what others see? How well would your organisation's hiring programmes stand up to challenging adverse publicity?
​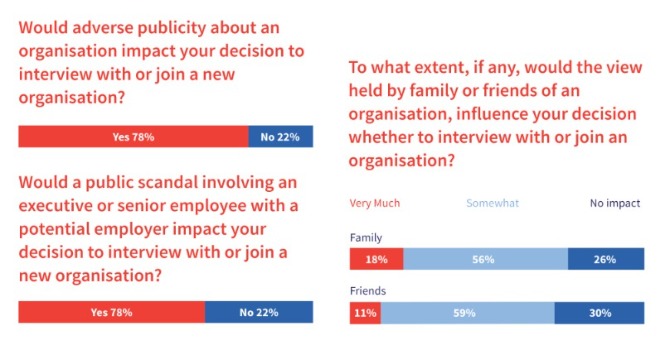 Remote Control.
The world of virtual work is really here.
While there will be some inevitable post-pandemic settling, the fact that more respondents to this research chose "Fully remote" than "Fully site/office based" as their future preferred workplace option, is significant. Just 10% of leaders and professionals want to fully return to their workplaces. More than two thirds opted for a hybrid pattern of two or three days alternating between remote and site-based working.
Remote Possibilities.
Not the future. Now.
The pandemic has had a significant impact on organisation culture. As a consequence, many companies are seeking to design new sustainable engagement programmes and it begins with the hiring process.
During the pandemic induced restrictions, almost 80% of leader and professional candidates, wanted at least part of the interview process to be undertaken remotely. Candidates have a strong preference when interviewing remotely, to meet with one or two interviewers at any time and report a strong aversion to panel interviews. More than two thirds of respondents would also prefer their onboarding to be undertaken remotely, in whole or in part. Remote interviewing presents its own challenges but also offers new opportunities for candidates and clients alike, including those working or seeking talent from abroad. All of this will ease as workplaces continue their returns, but remote interviewing and onboarding provides great opportunities for both candidates and employers.
It's worth noting however, that creating a bond between a hiring manager and a candidate through a virtual process can be difficult. Assessing candidates accurately on a remote platform and showcasing your organisation is also more challenging. New interviewing models and data collection and assessment methods are needed.
Best Offer.
Target needs and meet expectations.
The talent you seek to hire and retain, is highly selective about their potential employers. Candidates now include the presence or absence of a wider range of EVP elements to support their decisions about whom to join. The ability to work remotely is a central expectation and rather than dissipate as more firms return, its seems likely that the absence of remote working will become more of a problem for key employees and candidates given the uptake rate in other firms.
Forthcoming legislation may provide an entitlement for many employees to work remotely. The Workplace Relations Commission has already found in favour of claimants on this issue. Nearly half the respondents to this survey say they would refuse an offer from your company on this basis alone.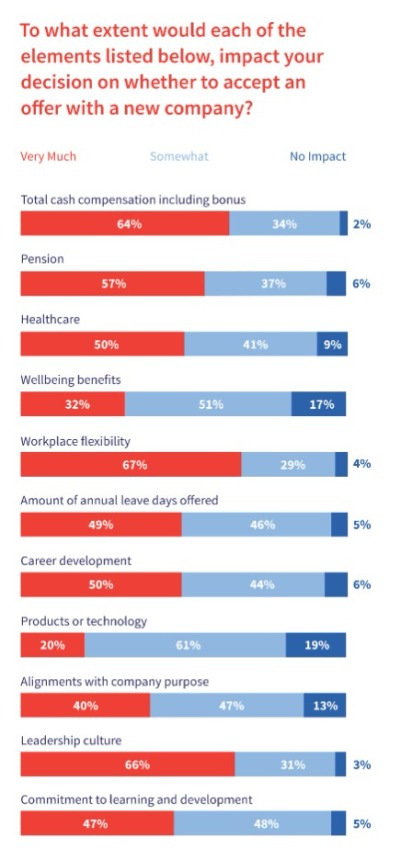 If hiring the best talent is important to your organisation, now is the time to review your talent acquisition programme. Here are six considerations that emerge from this report as you do so:
1. How well do you understand your current EVP? How clear is it to your key talent pools? Is it fit for post-pandemic purpose?
2. What happens when you go to market to hire? What is the candidate's experience? How does this impact target talent behaviour?
3. Is hiring treated in your organisation as a key investment decision or as an administrative chore? What might the consequences of this be?
4. Is your hiring process clearly mapped and measured for performance? Do the 'actors' all know their roles?
5. How often do you test your employer brand in the external market? Is it authentic and robust enough to mitigate public criticism or adverse publicity?
6. Has your firm fully accepted the role of remote working and increased flexibility? Do you have a sustainable programme for implementation?
​If you would like to know more about this survey, please contact us at any time. You can download a copy of the full report below.
​
​
​
​
​